Restavèk: Four-year-old Servants in Haiti
By J. P. Slavin
Rivière Froide -- When she was only ten years old, the harsh realities of rural Haitian life irrevocably changed Celine Bouchon's* childhood.  Her family was offered a bone-chilling deal from a local businessman: release Celine to his care and he would arrange for her to work as a live-in domestic servant in the far off capital of Port-au-Prince.  Celine would not be paid, he said, but she would go to school.
Celine's relatives agreed to the offer because of their dismal economic plight.  Eighty percent of the country's rural population lives below the absolute poverty line, according to the United Nations Children's Fund (UNICEF).  With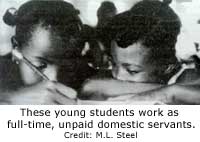 Celine in Port-au-Prince, her family would have one less child to feed.  Her relatives hoped that by letting her go, she might have a chance at a better life and an education, a highly prized but virtually unobtainable goal for many Haitian families.  More than half of the primary school students in Haiti never reach the fifth grade.
*not her real name