NCHR Pays Tribute to Jean Dominique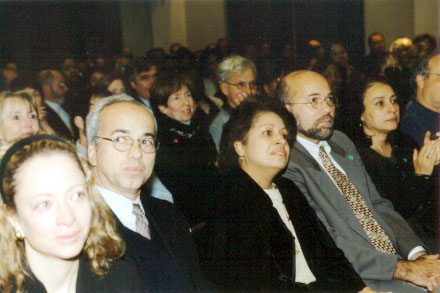 On International Human Rights Day, December 10, the National Coalition for Haitian Rights (NCHR) honored the memory of slain Haitian journalist, Jean Léopold Dominique with a two-hour event that was held at the Columbia University Graduate School of Journalism. Michèle Montas, Mr. Dominique's partner and widow, received NCHR's inaugural Michael S. Hooper Award for Human Rights from Danny Glover following the showing of "The Agronomist," a new documentary work-in-progress on Dominique's life by famed filmmaker Jonathan Demme. A standing-room only crowd of more than 250 participants gave a standing ovation to Ms. Montas.
The event crowned a week-long series of speaking engagements that allowed Ms. Montas to educate Americans in New York and Washington about conditions in Haiti today. Ms. Montas was interviewed on WNYC's On The Line with Brian Lehrer, spoke at a meeting in Washington sponsored by the Georgetown University Haiti Project, NCHR and the National Organization for the Advancement of Haitians (NOAH). She met privately with State Department officials, including the Haiti Task Force Coordinator, Ambassador Donald Steinberg, and the Principal Deputy Assistant Secretary of State for Human Rights, Mr. Michael E. Parmly. In New York, Ms. Montas briefed the Board and staff of Human Rights Watch and also met privately with Mr. Danilo Turk, Assistant Secretary General for Political Affairs at the United Nations Secretariat.
Many in the audience came from afar for the tribute to Jean Dominique and Michele Montas. Dr. Gerard Leopold Dominique, Jean's brother, flew in from Illinois. So did Danny Glover from California. The Honorable Mayor David Dinkins joined Rayna Rapp and Mira Rapp-Hooper, Anna Devere Smith, Walter Mosley, African musician Salif Keita, Richard Morse and his wife Lunis, members of the class of '69, -- the year that Montas graduated from Columbia --, Eddy Bayardelle, Ira Gollobin, Muzaffar Chishti, Ed Saxon, Jonathan Demme and Edwidge Danticat for the event.
NCHR's Executive Director, Mr. Jocelyn McCalla, announced that revenues generated from pledges and donations had reached the $80,000 mark. Major donors included the Merrill Lynch Corporation, the International Ladies Garment Workers Union Heritage Fund. The Class of '69 pledged to raise $5,000 and keep pressuring Haitian authorities to undertake a meaningful investigation into Dominique's death.
Mr. Demme urged the audience to support NCHR's campaign to support of the ongoing work of both NCHR and Radio Haiti. "We are $20,000 short of our initial goal," said Mr. McCalla. "Our campaign is still on. Donations can be given on line through a secure system linked to our web site, or by mailing a check and money order to NCHR at 275 Seventh Avenue, New York, NY 10001."
Please view more pictures of the event or read attendee comments.
The event has been reported in 116th & Broadway, the newsletter of the Columbia Graduate School of Journalism as well.